No matter how excited you are to move into your new place, your first few weeks will probably feel foreign and a little strange. Your new home will be filled with someone else's tastes, styles and memories so it is only normal that you are going to be a little home sick for the house you have just left behind.
So how do you go about making it your own and turning your house into a home?
Below are 5 quick hacks to turning the comfort factor up to 10:
Making Your New House Feel Like Home
Regardless of whether this is your first or your third, purchasing a new house is a really big deal. Not only is it a big financial move, but it's a new environment – a place where you and your loved ones will need to create new memories. For most people, it can be pretty difficult to get used to this. Not only are you letting go of your old home or apartment but if you aren't purchasing a brand new home, you're walking into a space that holds someone else's memories. How do you go about making it your own? How do you make your house a home?
Spend Time There – Everyone is so busy these days that by the time you get completely settled it, you may already be swamped with running back and forth between the office, the gym, PTA meetings, etc. Take some time during the week to just stay in and enjoy time in your new home with your family. If you treat this new space as a simple place to rest your head at night, you'll never truly feel at home.
Unpack your boxes
This sounds like a given, but many people get into the habit of living out of boxes rather than putting away all their items when they first move in. If you have taken advantage of your removals companies packing service all boxes should be labelled with the correct room. Although it may feel like a hard slog, unpacking your boxes is the best thing you can do. Having all of your personal items around you will add familiarity to your new environment. This will also help trigger the 'nesting' hormone which will make you want to do all you can to make it a home. Having boxes scattered throughout your new house will make you feel as though you are moving out, rather than moving in. It's a constant visual reminder that you are in a new environment and seeing the boxes on a day to day basis will lead to unnecessary extra stress
Make a home-cooked meal
To make your life easier in the weeks leading up to the house move, you probably ordered your fair share of takeaways. Resist the urge to do this at your new house and make a conscious effort to make a real home-cooked meal. As soon as you are able to, unpack the boxes labelled 'kitchen' and start making you and your family's favourite dish. If you don't feel as though you have the energy, opt for something simple. Then when you're done cooking, sit down at the dining room table with real cutlery and easy your new home.
Display your pictures and artwork
There is nothing more personal in a home than the pictures that hang on the walls. Display photographs of you and your loved ones and all the personal artworks you have collected over the years that means something to you. This will help to give your new house a personal touch and help to instantly make it feel more like it is your home!
House plants are a must
Bring the outside, inside! Greenery and flowers are hugely important when transforming a house into a home. They will help to instantly add a splash of colour and life to every room and show that people now live here and care for the house.
Host a housewarming party
Nothing will motivate you to get unpacked and organised more than the prospect of having friends and family over. Instead of putting off the process and living with boxes scattered here and there for months, make sure you set aside some time to get to it right away so that you can invite your loved ones over to make new memories. Better yet, call up some of your nearest and dearest and let them know that you're willing to exchange a home-cooked meal for a bit of help with the unpacking process.
Go Panda is a family run Cardiff removals company offering bespoke removals tailored to your specific needs.
We pride ourselves on our trusted and professional service from start to finish, taking care of you and your belongings every step of the way. Moving house made easy.
Call the Go Panda Hotline on 02921 252 111 to find out how we can help give you a stress-free house move!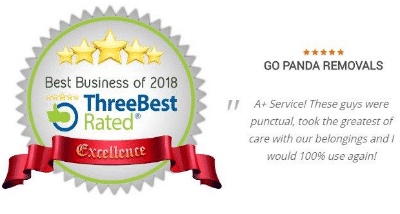 If your not in Cardiff please visit our other branches.
Go Panda Removals West Wales
Go Panda Removals Bath
We also recommend House clearance Wales for all your clearance needs.